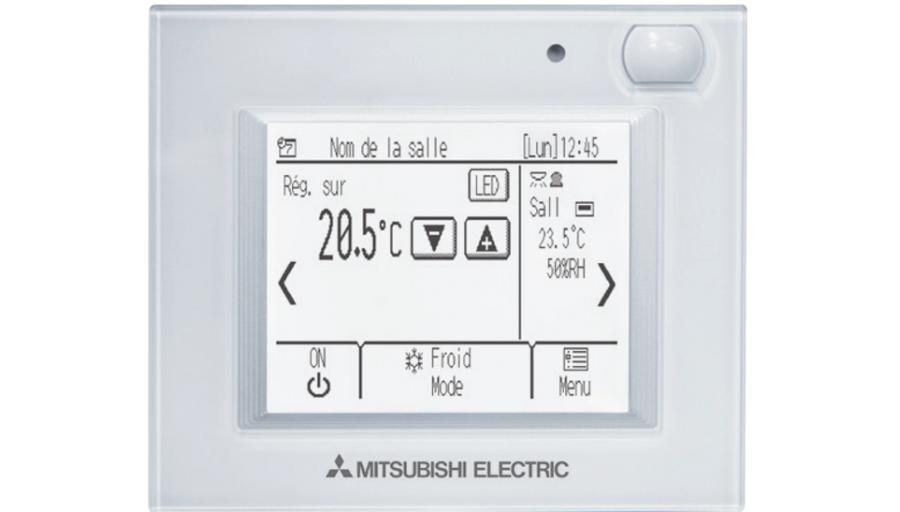 PAR-U02MEDA Advanced remote control
The Mitsubishi Electric Advanced remote control may be used to control up to 16 indoor units.
While advanced, this controller also offers basic functions such as monitoring and controlling the status of the units in the system, and a weekly hour timer.
Four integrated sensors (temperature, humidity, occupancy and light) allow a series of advanced adjustment and control functions.
For example, the occupancy sensor can be used to save energy by configuring different modes based on the occupied/vacant status of each room.
Large monochrome LCD touch screen display with white backlighting.
Usable to manage 1 group of up to 16 indoor units.
Integrated temperature, humidity, occupancy and light sensors.
SMART energy saving and comfort functions.
Contextual colour LED indicating operating status of indoor units.
View and set setpoint temperatures in 0.5°C increments
Dual Setpoint function.
Internal weekly timer.
ME M-Net addressing technology.
Extended setting ranges for setpoints (Cool: 19-35°C; Heat: 5-28°C).
New functions for use in conjunction with AHC Programmable Controller (PLC M-Net), for creating operating strategies with generic devices.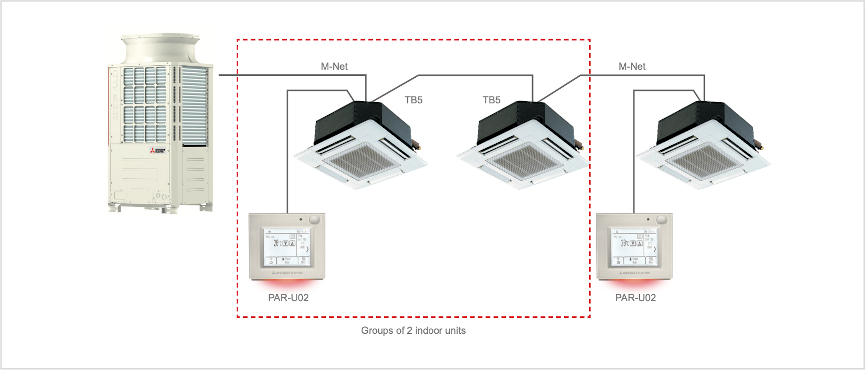 Occupancy Sensor
The occupancy sensor detects if a room is vacant and enables automatic control of the indoor units to implement energy saving strategies based on the effective occupancy of each room.
The occupancy sensor enables the following energy saving functions
Switch indoor units ON/OFF based on occupied/vacant state of room;
Fan speed control;
Switch indoor unit from Thermo ON to Thermo OFF state;
Configure temperature deviation based on occupied/vacant status.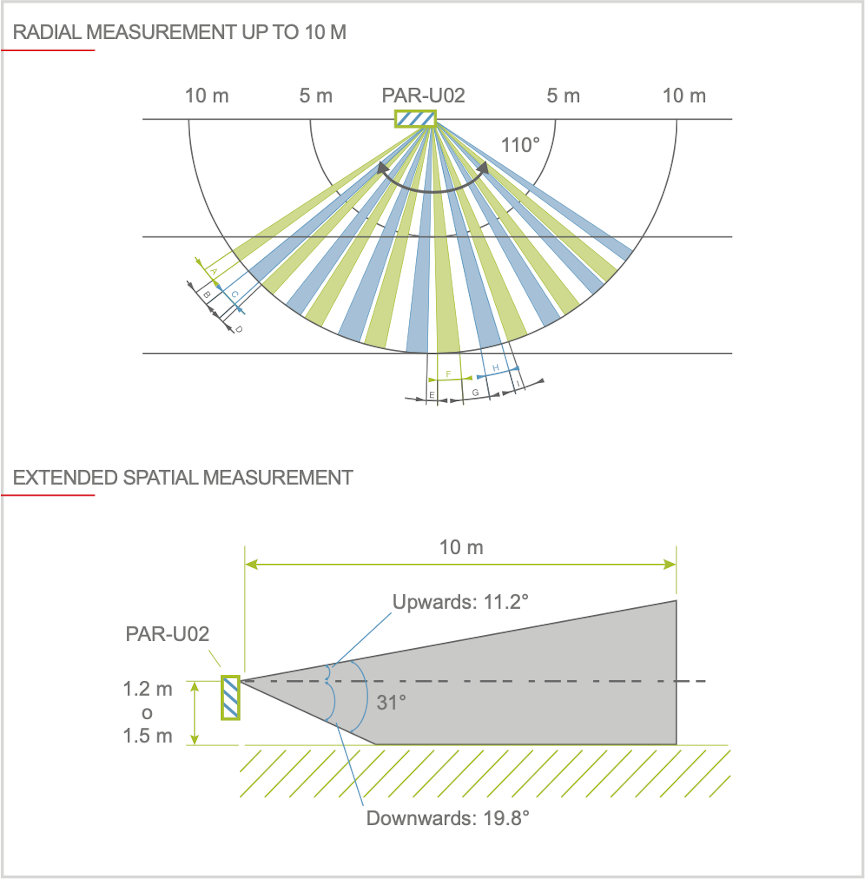 Light Sensor
The light sensor measures the light levels in the conditioned room and adjusts the brightness of the remote control display accordingly.
Bright/dark thresholds may be set directly from the remote control over an extended luminosity range (1 to 65535 lx).
The light sensor is also used in low light conditions to confirm the occupied/vacant status of the room.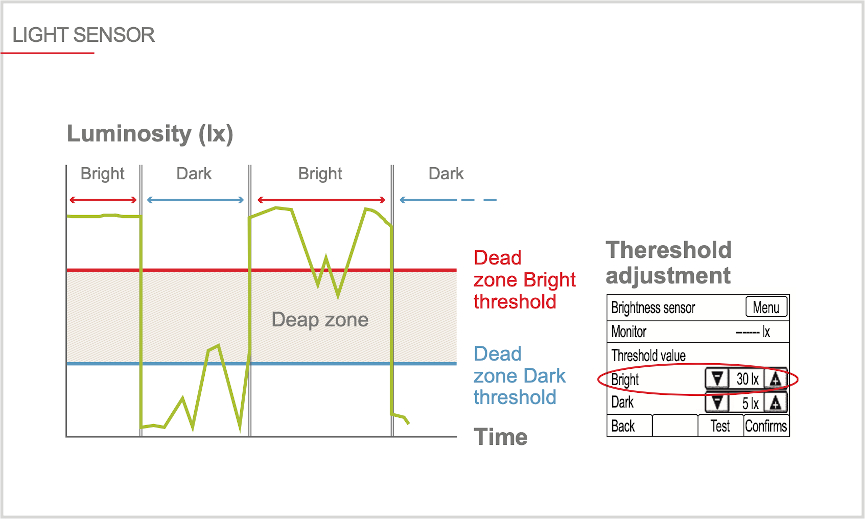 Temperature and Humidity Sensor
The integrated temperature and humidity sensor may be used to increase perceived comfort levels, while the ability to adjust the temperature with a precision of 0.5°C gives the user an even greater sense of control.
The relative humidity sensor, combined with the ability to interlock the remote control with a programmable AHC controller, makes it possible to control humidity with external devices connected to the system via the AHC.
LED status indicator
The LED status indicator indicates the status of active functions on the remote control.
Each colour is associated with a status or function:
e.g. Red=Heating, Blue=Cooling etc.
The LED indicator may be temporarily or permanently disabled.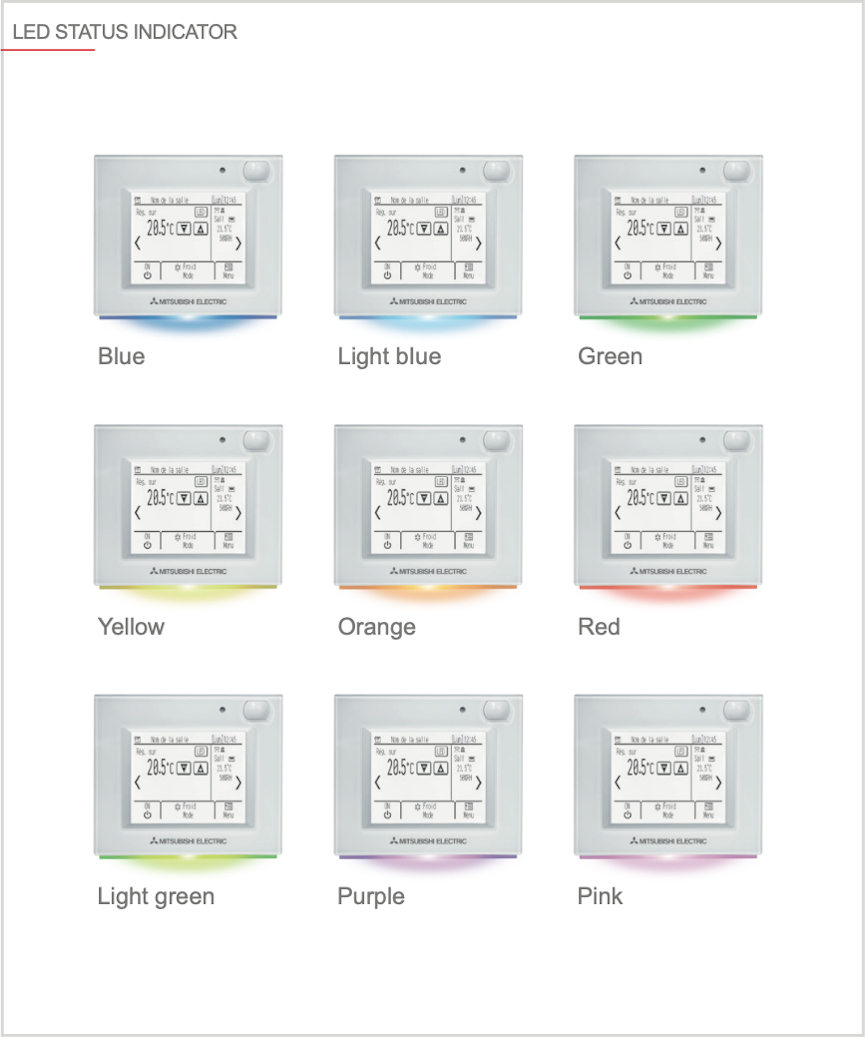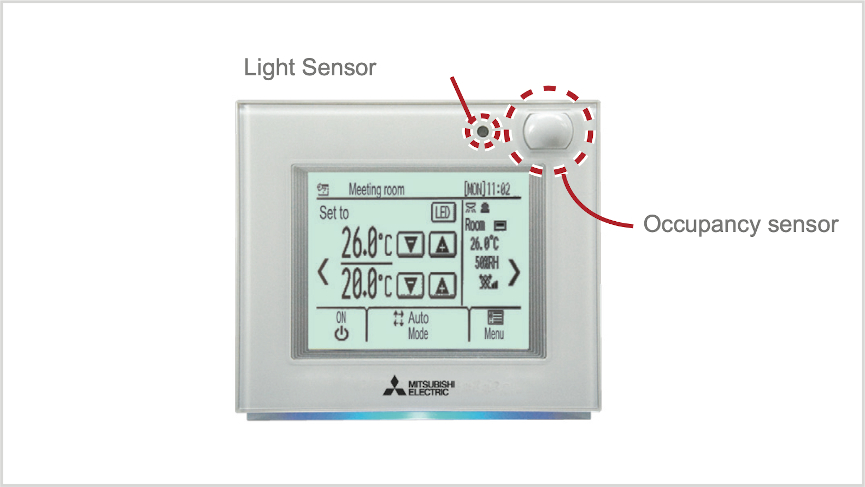 Documentation
General Catalog

Control System Catalogue

Download