The importance of adequate air exchange Air quality is a primary parameter for comfort.Poor air quality in the office or at home has been proven to have a significantly detrimental influence on productivity and on the healthiness of the environment, and contribute to fatigue. This is due to increasing concentrations of CO2 caused by inadequate air exchange. To live comfortably, every individual needs 400l of fresh air per hour.Ensuring adequate ventilation in residential and commercial buildings is necessary to offer a healthy, comfortable environment for all occupants.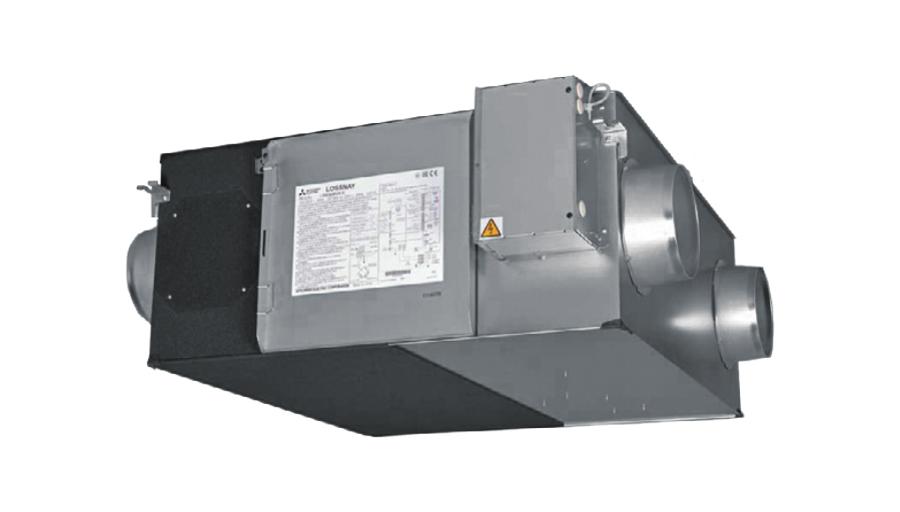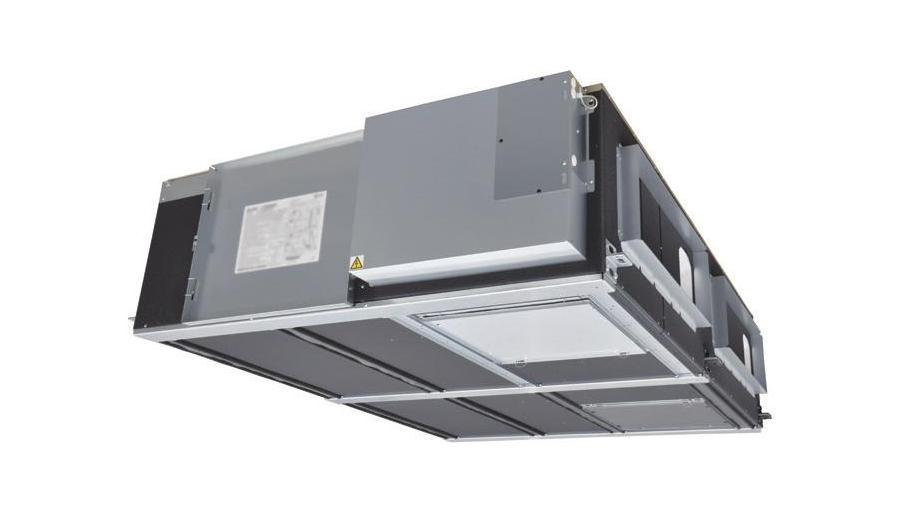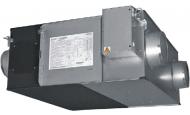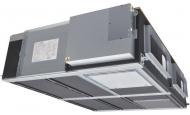 LOSSNAY – Heat recovery ventilation units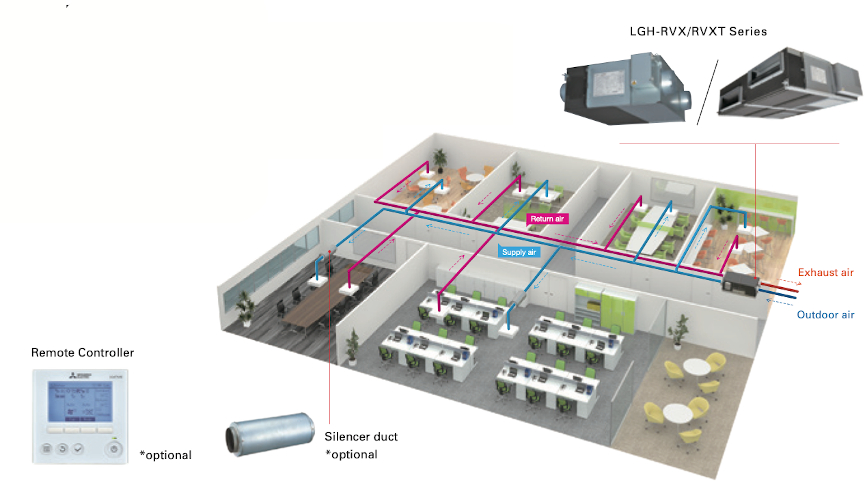 The importance of correctly controlled humidity
A dry environment offers the ideal conditions for the proliferation of bacteria and viruses, and the survival rate of these micro-organisms drops rapidly at relative humidity levels above 50%. Excessively humid environments, on the other hand, encourage the proliferation of mould and mites.
Precise humidity control is therefore an important factor in maintaining ideal, healthy conditions.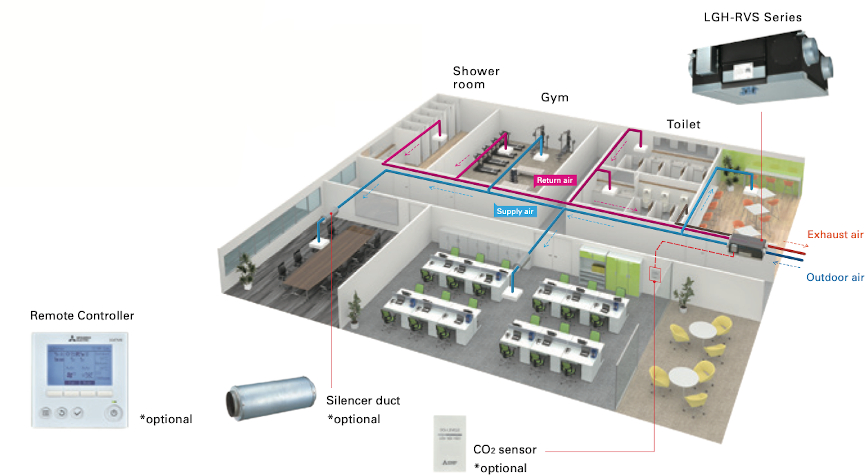 Simple construction
As shown in the figure, the Lossnay exchanger consists of a structure in special treated paper allowing two different air flows to cross one another and exchange thermal energy.
Partitions separating the inlet and outlet channels prevent incoming fresh air from ever mixing with outgoing air.

Operating principle
The Lossnay exchanger performs a highly effective total exchange action for both temperature (sensible heat) and humidity (latent heat) – the system uses moisture permeable partitions in specially treated paper to allow stale air to be vented externally and fresh outdoor air to be fed to the indoor space with absolutely no mixing between the two air flows.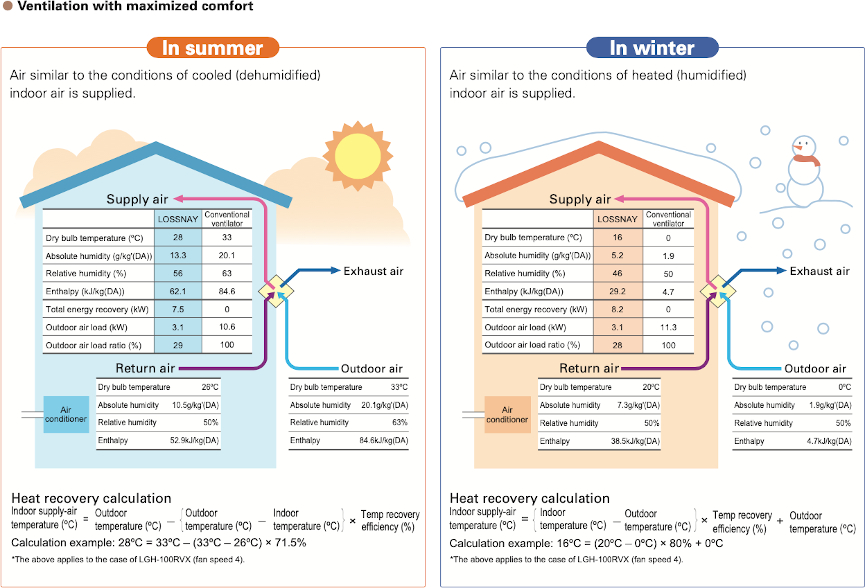 Energy recovery
Comfort and energy savings
With universally recognised efficiency, Lossnay heat exchanger ventilation units use energy recovery to offer significant energy savings.
A conventional ventilation system vents treated indoor air into the outdoor environment and replaces this air with outdoor air, causing the room to lose heat in winter and heat up in summer.
This loss of heated/cooled air means that energy must be expended to restore comfortable temperature conditions in the indoor space.
The result of this is notably higher air conditioning costs.
To solve this problem while still ensuring the necessary air exchange, Mitsubishi Electric offers a range of thermal energy recovery ventilation systems, which minimise air conditioning costs.
All Lossnay units are equipped with class "G3" air filter.
LGH models may also be equipped with a class "F7" high efficiency filter.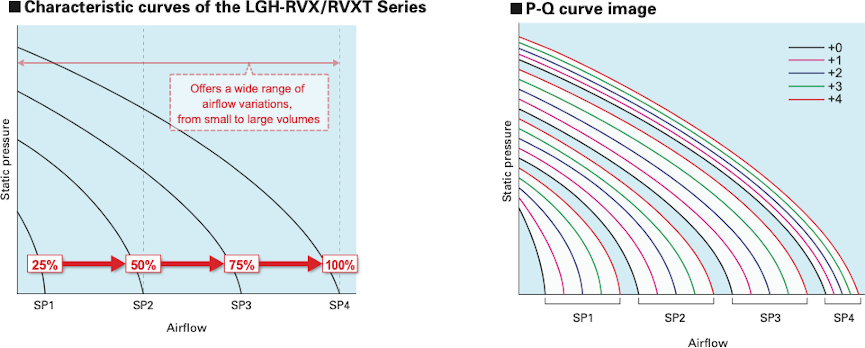 Comfortable air exchange action, in either cold or hot outdoor conditions
Summer - Difference in temperature between new fresh air and air already in room of only 1.7°C
Incoming fresh air is brought to the same conditions as the cooled (and dehumidified) air in the room.
Winter - 4 kg/h humidity recovered
Incoming fresh air is brought to the same conditions as the warmed (and humidified) air in the room.

Low noise
Precise control over the flow of treated air significantly reduces the sound pressure values of the LOSSNAY unit by up to 18 dB(A).
All LGH-RVX units ensure ideal acoustic comfort, including for residential applications, libraries, offices etc.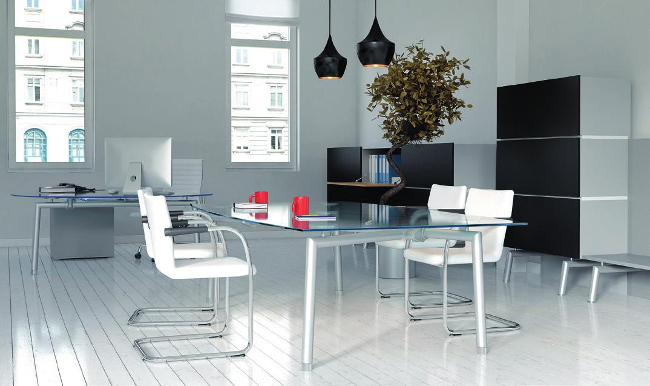 New PZ-61DR-E dedicated remote control
The new wired remote control unit specifically for LGH-RVX heat recovery units boasts a fresh new look and new features.
Possibility of managing a group of up to 15 units
Simple and intuitive
Backlit LCD screen
Internal weekly timer
Custom ventilation strategies for mode switching (Auto/recovery/ bypass)
Night purge function for active night-time ventilation in summer.

LOSSNAY for energy savings
New DC FAN Motor
The new DC motor used throughout the new LGH-RVX series offers a number of advantages:
Very low electric power consumption, especially at low speeds
Lower noise emissions
Increased flexibility and fine air flow adjustment from remote control.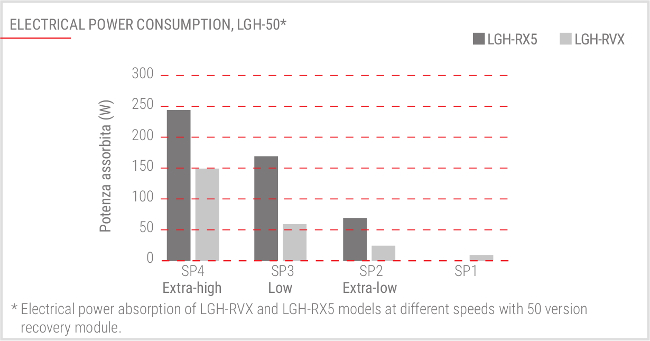 Bypass shutter
The LGH-RVX series is equipped with a bypass shutter:
When the shutter is open, fresh air is fed to the interior space with no heat recovery, passing through the filter only.
The bypass shutter may be activated manually from the remote control, or automatically in specific thermal conditions (Free-Cooling).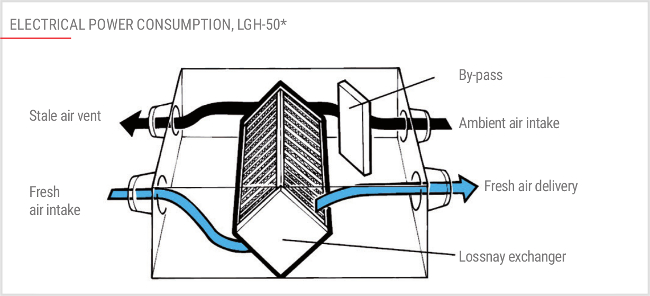 Easy installation
High air volumes and low height.
Three new models with important innovations have supplemented the LGH enthalpic recuperators line.
The RVXT models treat high volumes of air (up to 250m3/h) and are extremely low in height (only 500mm), a feature that makes them exceptionally flexible during installation, especially where the height of the false ceiling does not allow the use of RVX models.
The RVXT models are also equipped with an enthalpy exchange package in treated paper and are fitted with G3 filters as standard.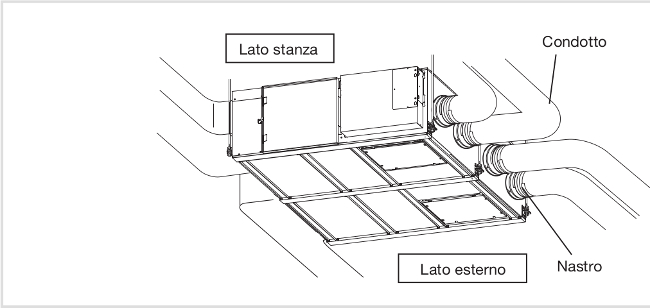 Compliant with ErP Directive, Lot 11
EU Regulation 327/2011, effective from 1 January 2015, implements the conditions specified in Directive ErP 2009/125 to encourage the design and manufacture of environmentally compatible energy consuming products with the goal of reducing CO2 emissions and energy consumption by 20% by 2020.
All fans and ventilation units with electric motors with a rated power absorption between 125 W and 500 W fall within the scope of application of this regulation.
The Mitsubishi Electric LGH-RVX-E Lossnay enthalpic recovery unit is compliant with this directive.

The European Union has set a series of very challenging environmental targets which must be attained by 2020.
These targets are grouped together and described with the general title "20/20/20 Package", indicating an increase of 20% in the use of renewable energy sources over 1990 together with a reduction of 20% in primary energy source consumption and CO2 emissions.