PLA-SM EA
A complete line-up including deluxe units that offer added energy savings. The synergy of higher energy efficiency and more comfortable room environment results in the utmost user satisfaction.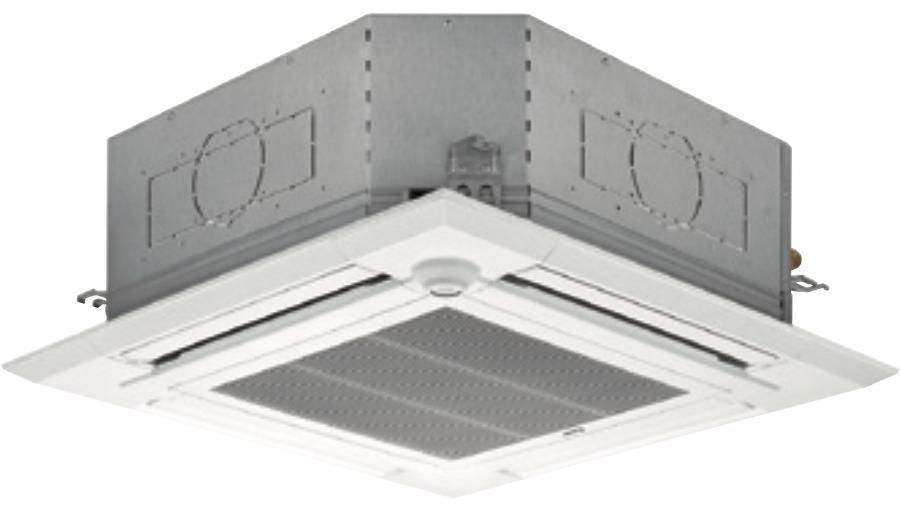 Optimum Airflow
Individual Vane Settings
Optimum airflow settings provide maximum comfort throughout the room.
In addition to the selection of variable airflow patterns (i.e., 2-, 3- or 4-way), this function allows the independent selection of ver- tical airflow levels for each vane, thereby maintaining a comfortable room environment with even temperature distribution.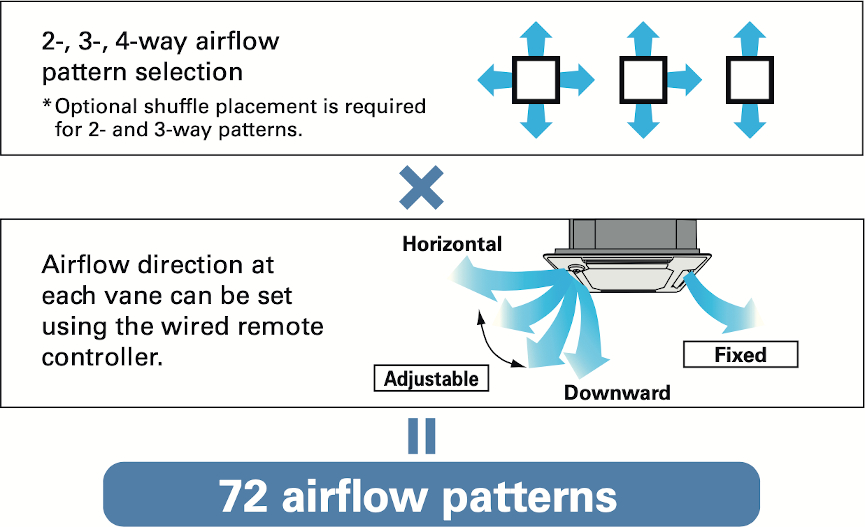 Wide Airflow
Wide-angle outlets distribute airflow to all corners of the room.
The outlets are larger than those of previous models and the shape has been improved for better wide-angle ventilation.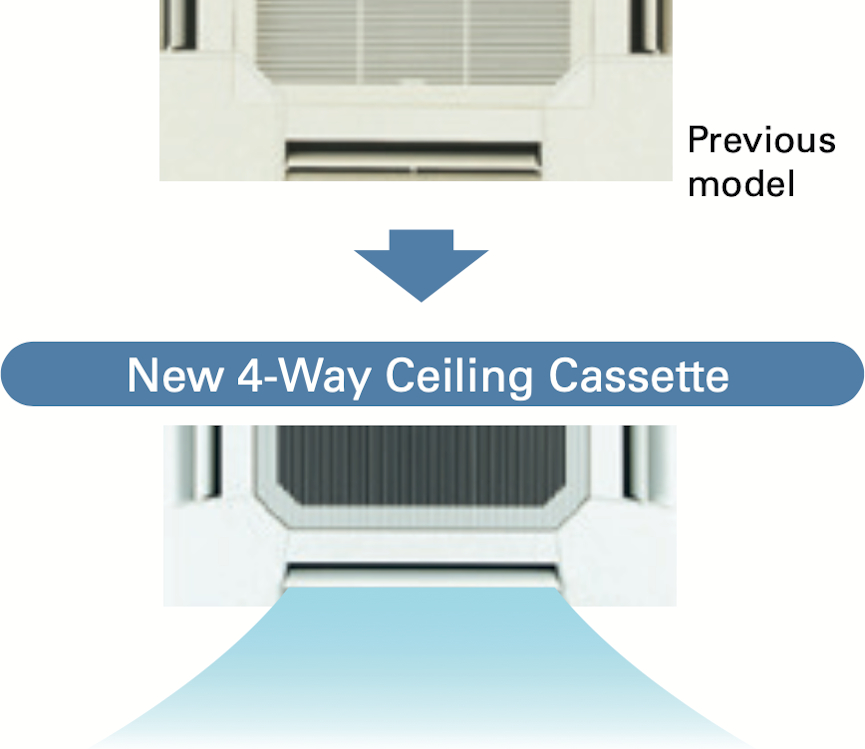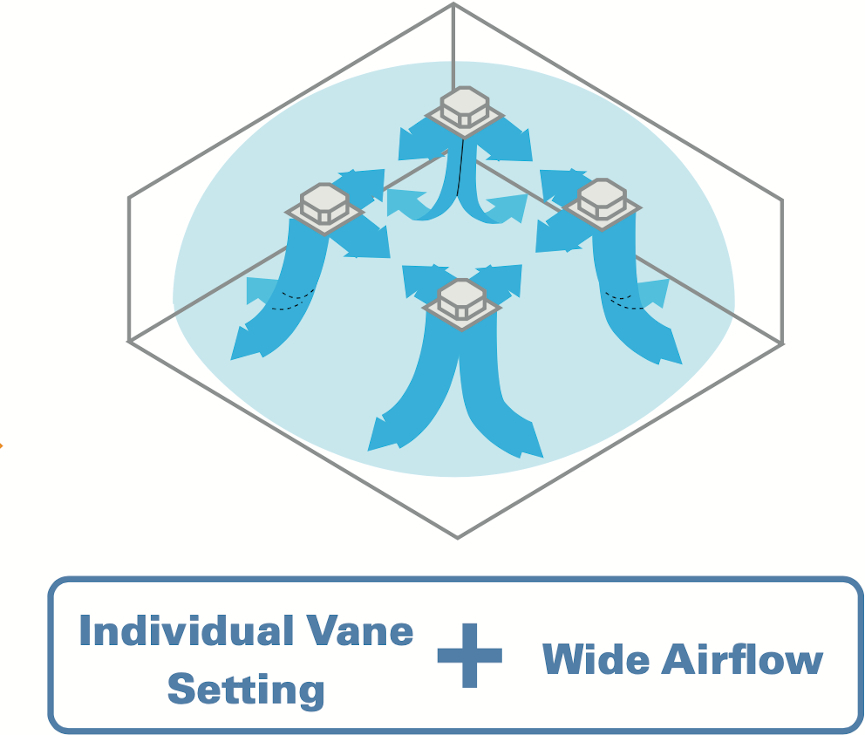 The combination of individual vane setting, which enables the optimal outlet setting for each room layout, and the wide airflow function works to ensure even temperature distribution throughout each room. The result is uniformly comfortable air conditioning.
Wave Airflow –Thoroughly warming all corners of the room!
Wave Airflow Operation
"Wave Airflow" is essentially the advanced control of the vanes directing the airflow from the unit. Blown-air is repeated dispersed from the unit in horizontal and downward directions at time-lagged intervals to provide uniform heating throughout the room.

Thermograph of Wave Control Effect

Temperature distribution comparison approximately 20min after turning on a PLA-SP71BA 4-Way ceiling cassette. The measurement point for comparison is a plane 1.2m above the floor.
Horizontal Airflow
A "Horizontal Airflow" function has been added to reduce drafty-feeling distribution. Horizontal Airflow prevents cold drafts from striking the body directly, thereby keeping the body from becoming over-chilled.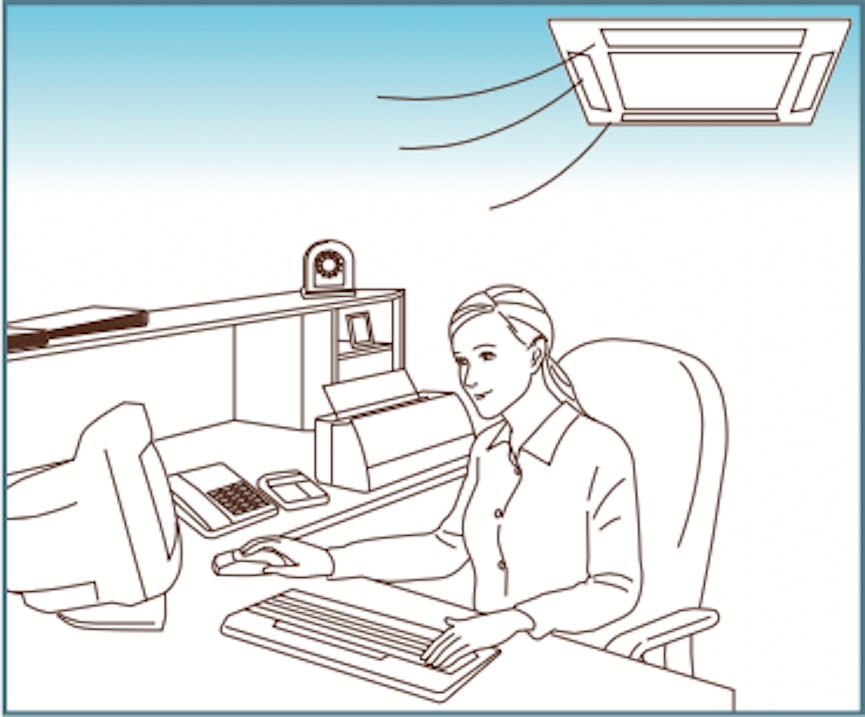 [Airflow Distribution]
PLA-SM125EA
Flow angle, cooling at 20°C (ceiling height 3.2m)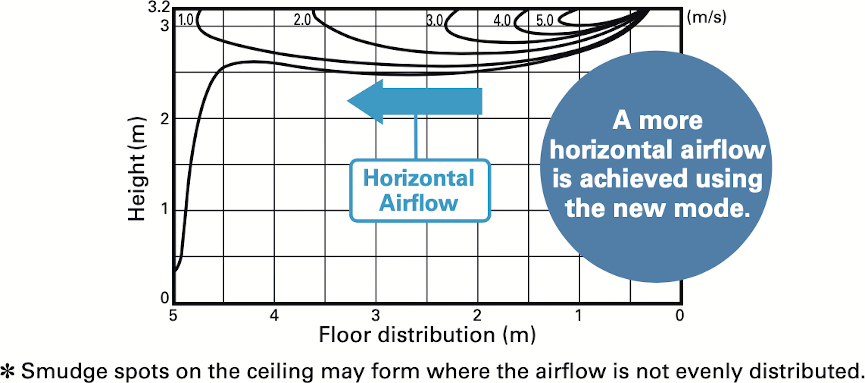 Automatic Air-speed Adjustment
An automatic air-speed mode that adjusts airflow speed automatically is adopted to maintain comfortable room conditions at all times. This setting automatically adjusts the air-speed to conditions that match the room environment.
At the start of heating/cooling opera- tion, the airflow is set to high-speed to quickly heat/cool the room.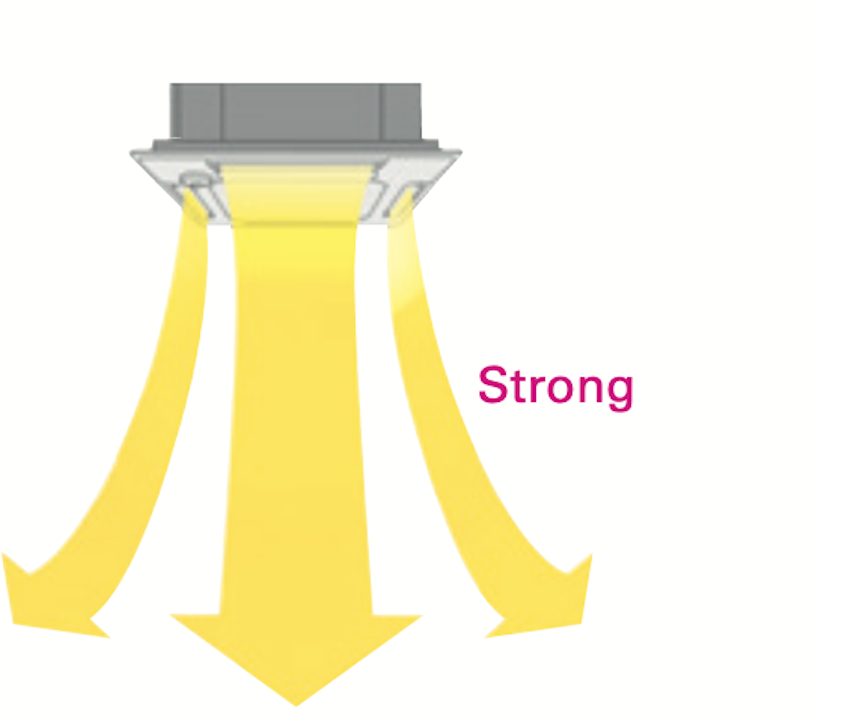 When the room temperature reaches the desired setting, the airflow speed is decreased automatically for stable comfortable heating/cooling operation.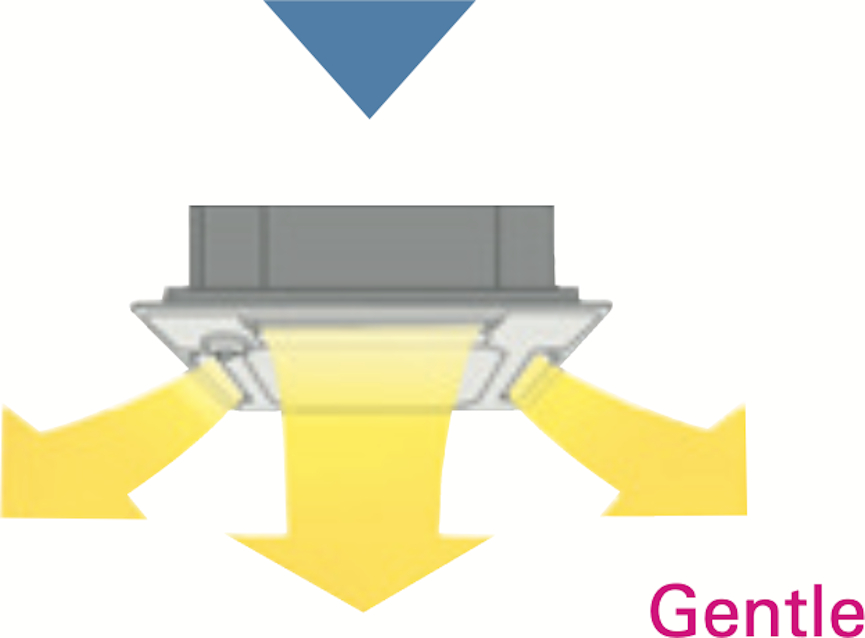 New Outdoor Units
Mitsubishi Electric introduces a new model of outdoor units for PUHZ-SP, less than one meter high. The unit is available in sizes 12,5/14 kW 1-phase and 10/12,5/14 kW 3-phase.
This new one-fan chassis allows for great flexibility and reduced impact of the unit on sight.
Dispite reduced dimensions capacity and piping lenght is the same:
Max piping length: 40m (30m for 100)
Max vertical difference: 30m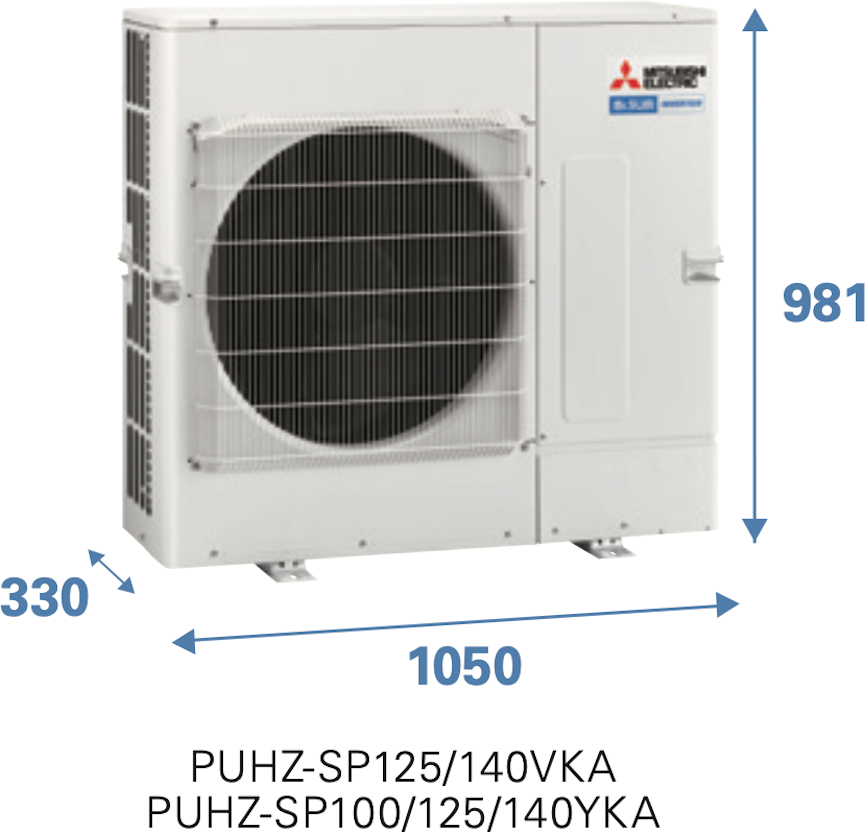 Also, model PUHZ-SP140V/YKA allows for Free Compo Twin connection: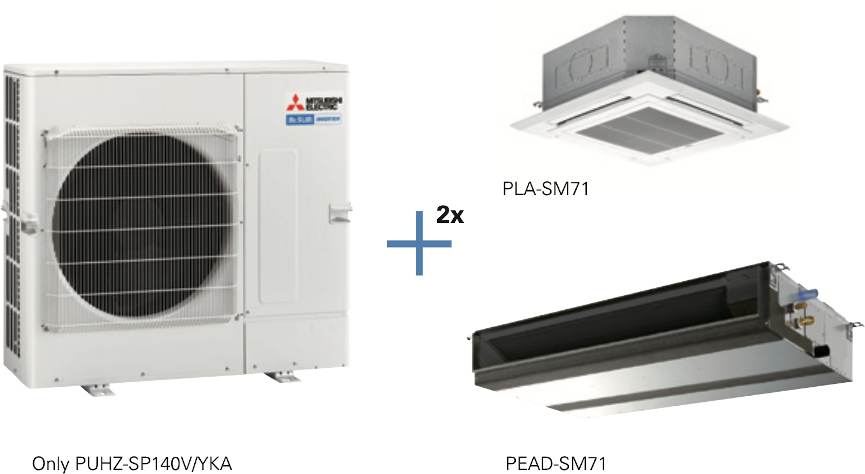 Joints:
Twin: MSDD-50TR2-E NEW