The Ecodan® - Packaged HWHP (Hot Water Heat Pump) system consists of a monoblock air condensing outdoor unit which produces very high volumes of high temperature hot water.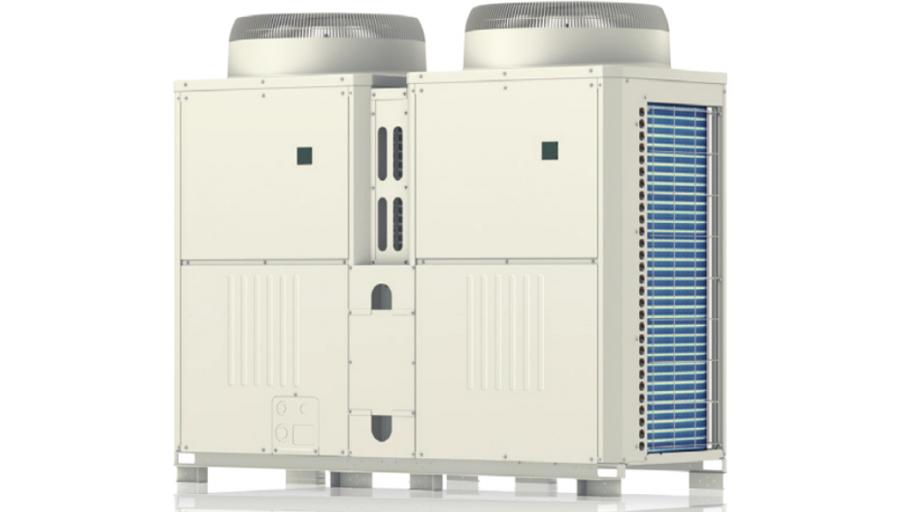 Technology
The flash-injection circuit designed for the VRF CITY MULTI ZUBADAN Y system (a heat pump system for very cold climates) is installed in the latest packaged Hot Water Heat Pump CAHV system. By using this advanced injection system and highly efficient compressors, the CAHV packaged system can deliver high-temperature hot water up to 70°C, and ensures fewer losses in terms of performance and capacity at very low outdoor temperatures.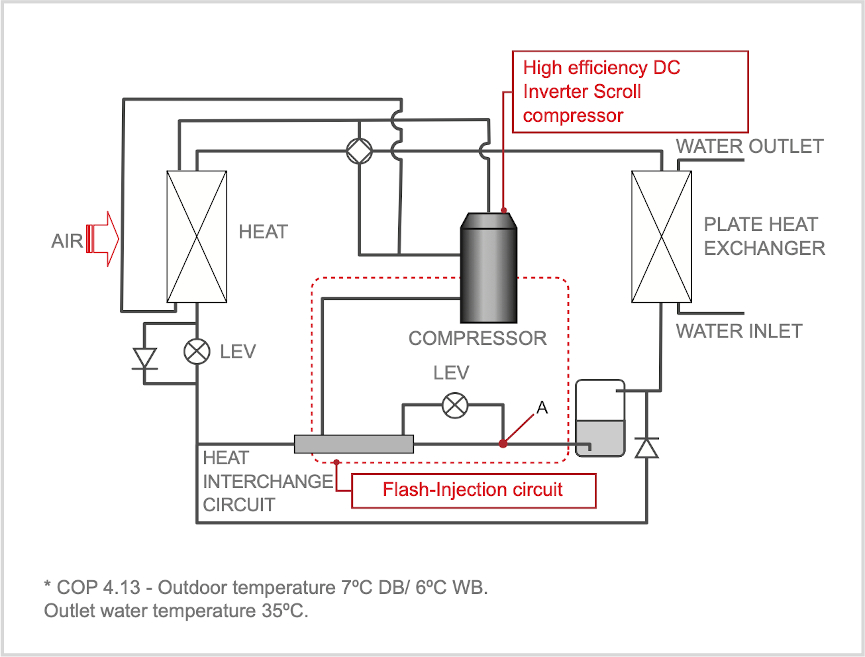 Packaged AtW heat pumps for hot water
Mitsubishi Electric has been designing and manufacturing packaged heat pumps for hot water for the commercial sector since 1970.
The company was one of the first manufacturers in Japan to use heat pump technology to produce hot water, and was also the first to develop a range of solutions operating with R407C, which even then could produce high-temperature hot water up to 70oC, sufficient to instantly eliminate legionella bacteria. Our products are still used today in industrial processes requiring high volumes of high-temperature water.
Our Hot Water Heat Pump systems are used in hotels, hospitals and care homes, testifying to their superior reliability.
As a leading manufacturer of domestic hot water production systems, we are proud to introduce the efficient Air to Water packaged heat pump system.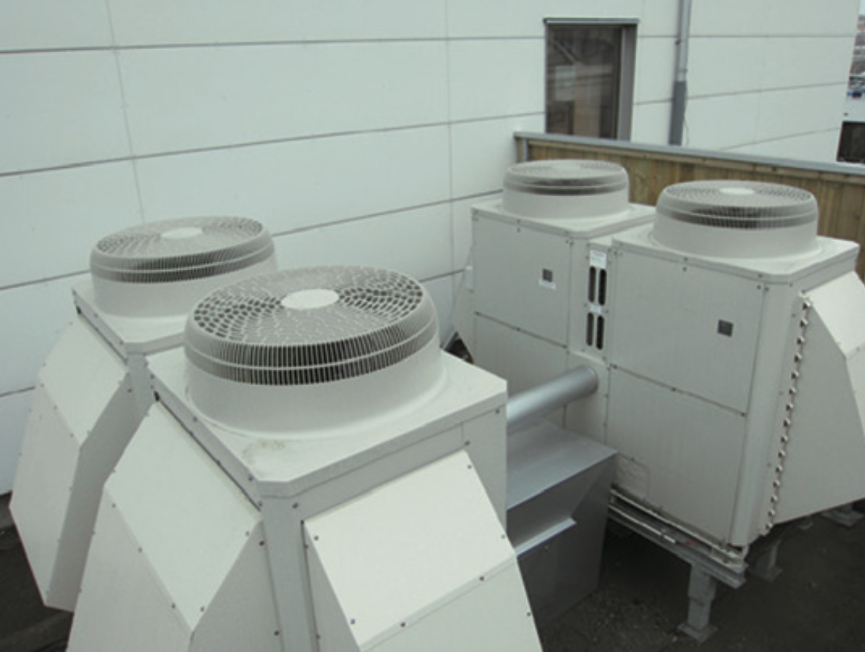 Class-beating heating capacity
The CAHV packaged system offers unrivalled flexibility with 2 operating modes to cater for every possible need - Efficiency Mode (COP) and Capacity Mode. In Capacity Mode the system can deliver a maximum capacity that exceeds 70 kW, while Efficiency Mode (COP) is extremely effective for maximising energy efficiency in all operating conditions, and reducing CO2 emissions as a result.
* Outdoor temperature 20°C DB, Outlet water temperature 35°C. Relative humidity 85% in capacity mode.
Efficiency mode (COP)

Capacity Mode

Operation guaranteed at temperatures as low as -20 °C
The CAHV packaged system is capable of operating at outdoor temperatures between -20°C and 40°C, producing high-temperature hot water (65°C) even on the coldest days of the year. In the defrost cycle, the two system compressors operate in turn, limiting the drop in delivery temperature.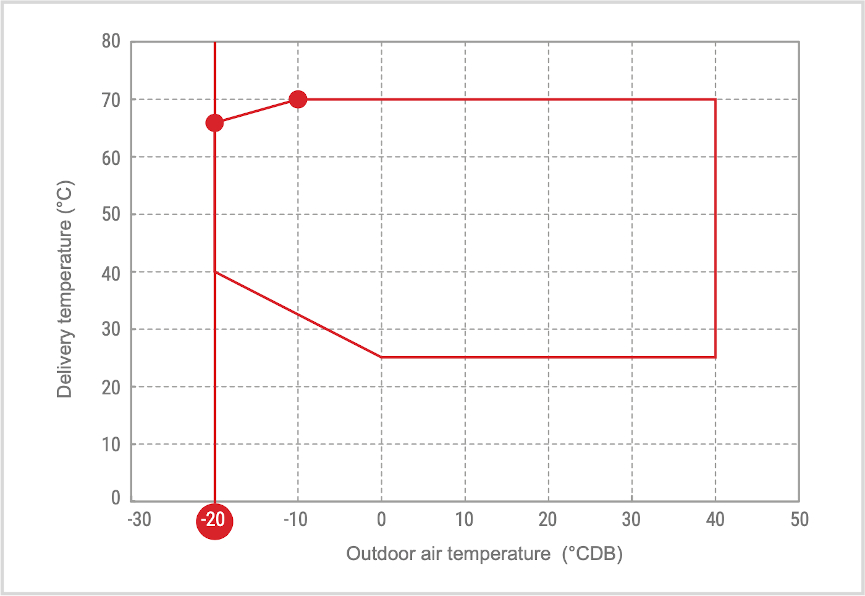 Backup and rotation functions
The CAHV packaged system is highly reliable thanks to its Backup* function, which ensures that if one of the compressors in an individual system fails, the other will continue operating to avoid the inconvenience of the system shutting down completely. Obviously heat capacity is halved under these conditions.
Another key function for ensuring uniform operation and optimal compressor lifetime in CAHV packaged systems in multiple configurations is the Rotation function. This ensures that when an installation has two or more systems, the individual systems will operate in turn if thermal demand does not require simultaneous operation.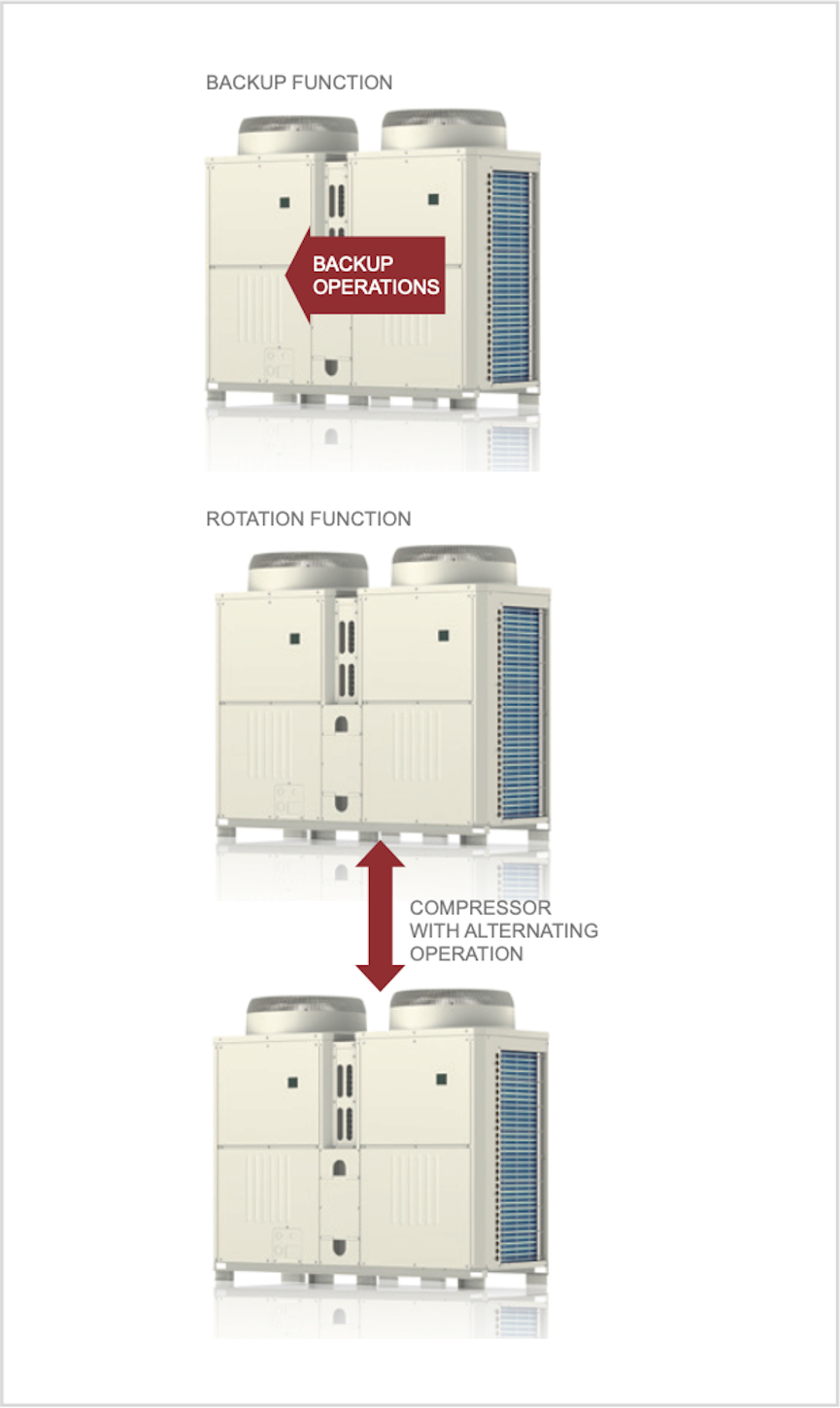 Cascade systems
When the demand for large volumes of hot water production is high, a flexible, modular thermal power installation may be created with up to 16 CAHV packaged systems, for a maximum output of up to 720 kW. This solution offers a high level of modularity thanks to the 2 DC scroll inverter compressors installed in an individual system, ensuring that thermal power is adjusted progressively and with extreme precision in relation to actual hot water demands. This optimises the operation of the entire installation, with only part of the CAHV packaged system operating under medium-load conditions during typical spring and autumn temperatures. A malfunction in one or several CAHV packaged systems will not compromise the operation of the other systems in the installation, ensuring safety and continuous operation.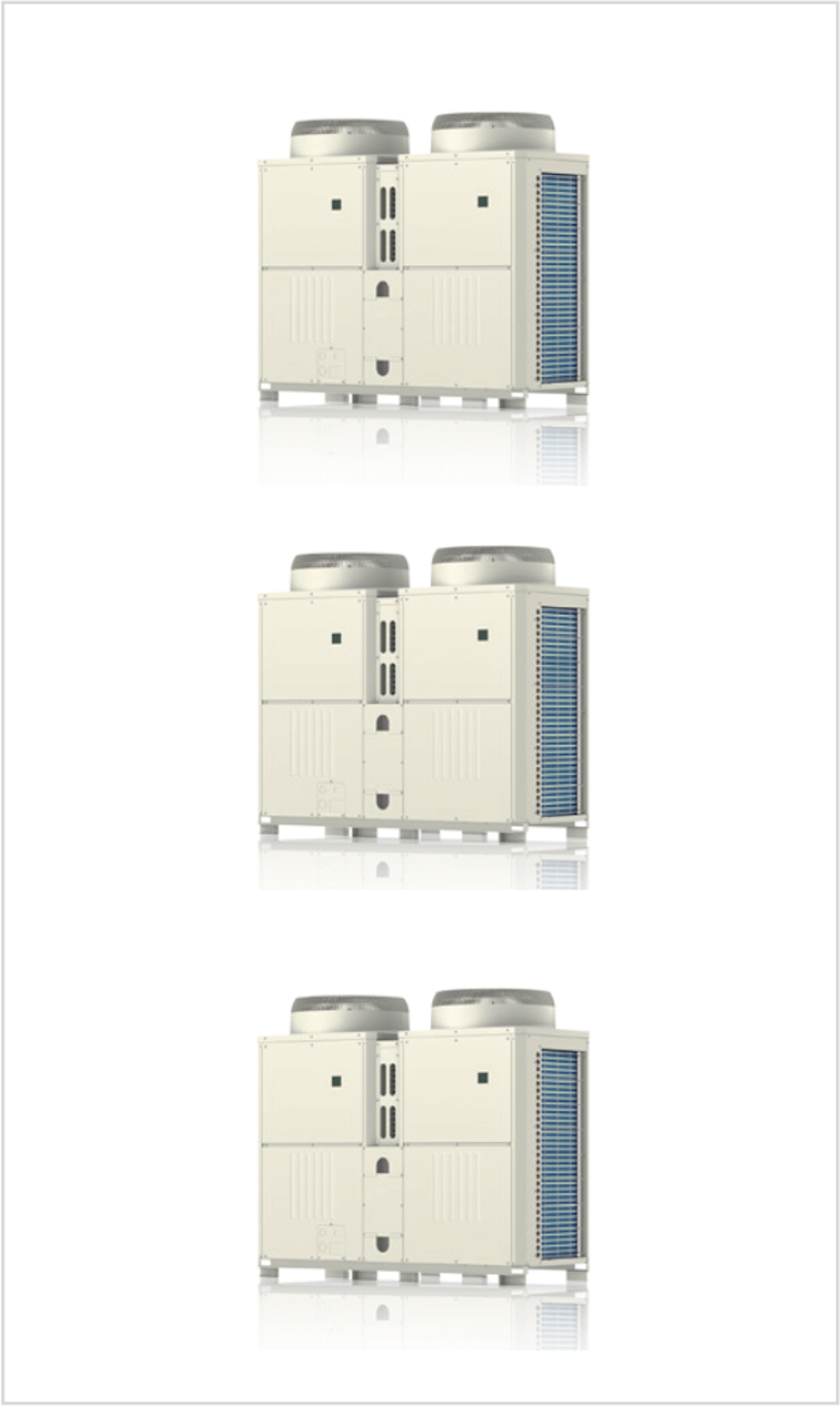 High-pressure fans
The latest fan technology used in the CAHV packaged system enables the creation of ducted installations, further increasing system flexibility. The external static pressure of the fans can be set at between 0 Pa and 60 Pa.
External remote control
A wide choice of analogue and digital inputs and digital outputs available with the system's electronics enables remote control operation (via a BMS, timer or external contacts). The following are just some of the available input signals:
Option of selecting operating mode and hot water production temperature setpoint, choosing Heating Mode or ECO Heating Mode. The latter mode is particularly advanced, as it uses the outdoor air compensation curve to automatically determine the water delivery setpoint.
Option of selecting operating mode and hot water production temperature setpoint, choosing Domestic Hot Water Mode or Heating Mode. This makes it possible to configure two different water temperature setpoints, a higher value for domestic hot water production and a lower value for heating. This improves performance at partial loads, as DHW is only produced when required.
Selecting Efficiency Mode (COP) or Capacity Mode for unit operation. This means system operation can be optimised in relation to demand, increasing power or performance depending on requirements.
Selecting ON/OFF on the basis of the signals received from the flow regulator switch and the circulation pump, for increased protection of the hydronic circuit and satisfactory system operation.
The following are just some of the available output signals:
A digital output can be enabled at a selectable minimum water temperature to start an alternative heat generator (boiler, solar panel etc.) to substitute the system if it is OFF.
Unit defrost signal.
The result is maximum control flexibility, either locally using the dedicated PAR-W21MAA remote controller, or remotely using external contacts.
Control and monitoring functionality with centralised WEB Server controllers
With the M-Net data transmission bus, the CAHV packaged system can interface with the centralised WEB Server 3D Touch and 3D Blind Controllers of the VRF CITY MULTI control system range.
Depending on the application, the CAHV packaged system can therefore interface with a VRF CITY MULTI system to optimise operation when catering for hot water, heating and air conditioning demands, or to manage, monitor and supervise the system in a standalone configuration for applications solely requiring the production of large volumes of hot water. In both cases, the system can be controlled via a 10.4" backlit, colour touchscreen display on the 3DT controller, or via the Internet using the web pages for either centralised controller.