The scalability, flexibility and modularity of the Ecodan® – VRF HWS & ATW system represents the state of the art in Mitsubishi Electric technology. This solution makes it possible to use a single producer – the VRF outdoor unit – to deliver heating water, cooling water and domestic hot water simultaneously.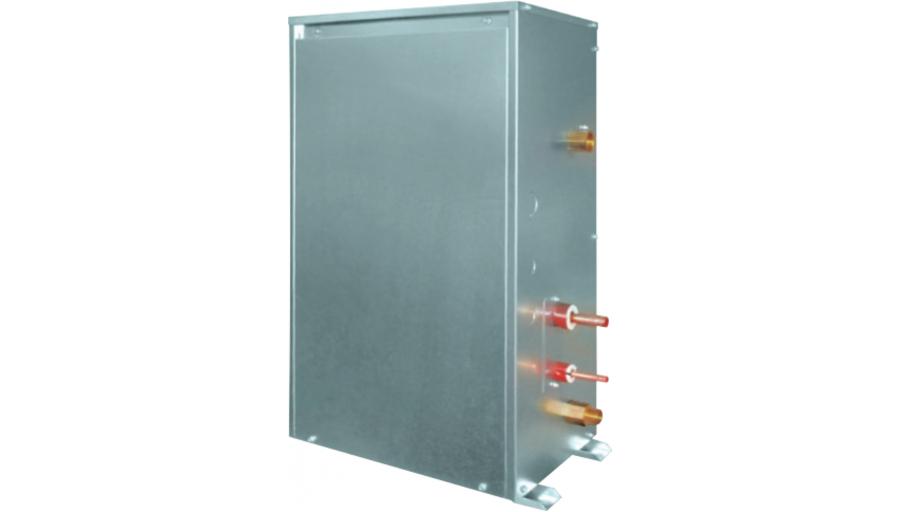 Hydronic modules for VRF CITY MULTI systems
Ecodan® heat pump technology has been used in conjunction with hydronic modules to create systems for the production of domestic hot water (HWS) and heating water for radiator panels (ATW) which are perfectly compatible with the inclusion of both thermal and photovoltaic solar panels in the installation. Systems with electric heat pumps may be used all year round, as their use is not restricted by legislation.
The added comfort of being able to use the air conditioning system in spring and autumn is yet another advantage of these VRF systems. The indoor units of the VRF CITY MULTI system gently cool and dehumidify the interior space in spring, cool and dehumidify in summer, transferring the extracted heat to both the HWS and ATW hydronic modules, and heat the interior gently at cooler times of day in autumns.
HWS hydronic modules are ideal for the production of domestic hot water all year round. They make use of the energy drawn from indoor spaces by the VRF indoor units, as well as supplementary energy provided by solar panels in summer and spring.
ATW hydronic modules provide hot water for radiant panel heating in winter and deliver warm water to heat a pool in summer, contributing to maintaining comfortable temperature conditions and making use of the energy drawn from the indoor space by the VRF indoor units supplemented by heat supplied by thermal solar panels.
In systems with this capability, ATW hydronic modules may also be used to deliver refrigerated water to radiant panels in summer.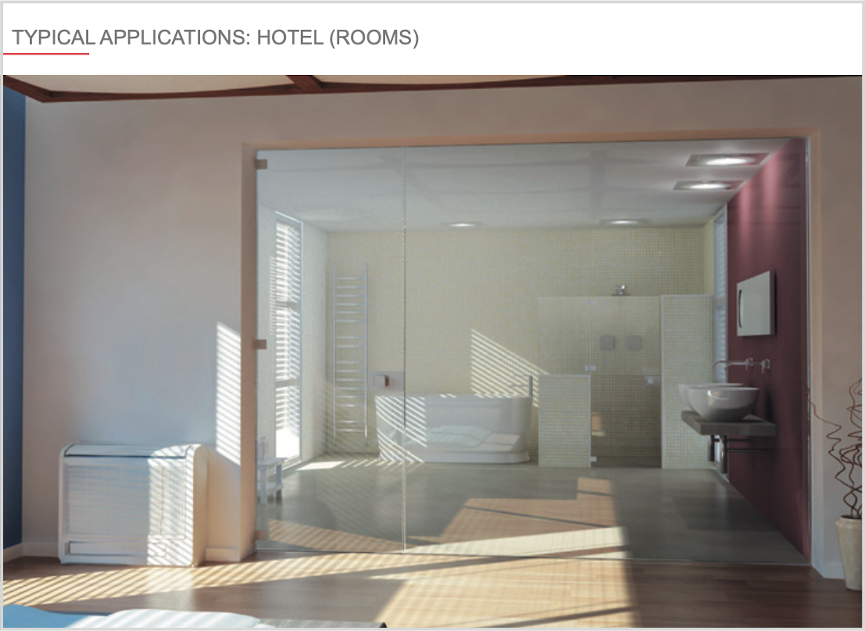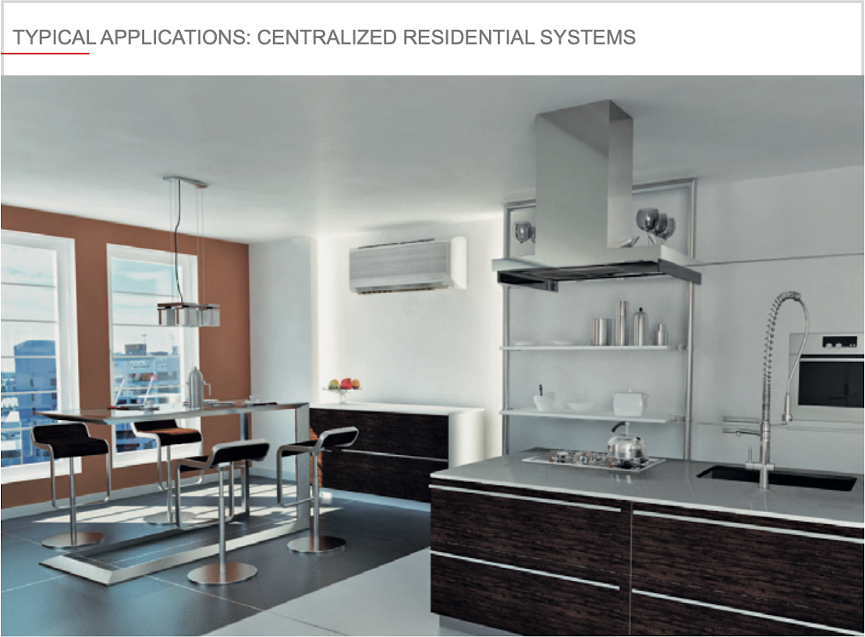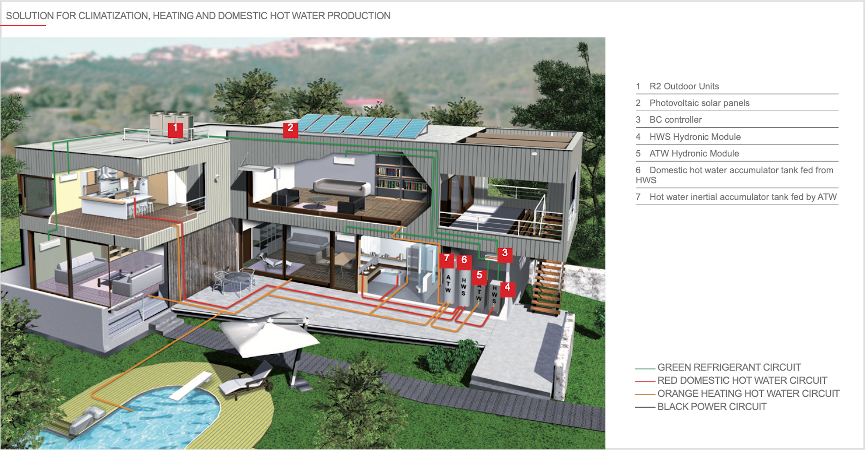 HWS hydronic module – Hot water supply
subishi Electric was the first to introduce VRF systems for the production of high temperature hot water (up to 70°C), usable for domestic hot water production. The HWS hydronic module represents a significant, innovative technological breakthrough that uses the most advanced refrigeration technology, and has been conceived to be easily integrable with R2/WR2 series VRF CITY MULTI simultaneous cooling / heating systems.
Heat recovery plays a crucial role in these systems, as the HWS hydronic module may be used to extract heat from rooms where cooling is required, which would otherwise be vented into the outdoor atmosphere, and then use this heat to contribute to hot water production, adding only the supplementary heat necessary to reach the desired temperature. The HWS hydronic module can produce hot water at temperatures up to 70°C in the return line, with a heating capacity of up to 12.5 kW per module which, however, is scalable in relation to internal demand.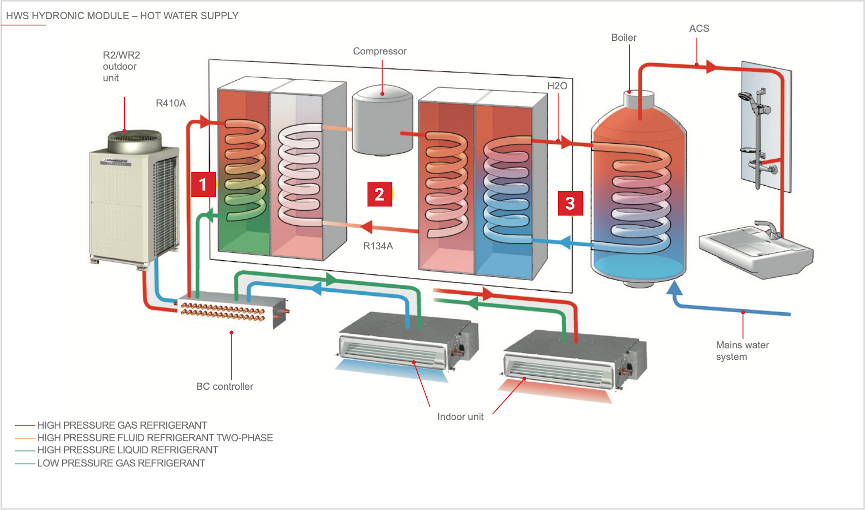 Operating principle of two-stage technology
The HWS hydronic module employs a variant of the two-stage compression principle – a principle that has been known and used for many years, but which, until now, has only been applied in refrigeration systems to reach very low temperatures (as low as -60°C). Mitsubishi Electric has redesigned the two-stage circuit to achieve the opposite effect, for units intended to produce heating power at medium to high temperatures, from 30°C to 70°C. This solution combines superior energy efficiency with high hot water temperatures that are not attainable with the conventional heat pumps currently on the market. As illustrated previously, the HWS hydronic module uses the "free" heat extracted from the air conditioned interior by the heat recovery circuit of the CITY MULTI R2 outdoor units and raises the temperature to the desired value to deliver usable hot water. This double process recovers energy from the system, increasing its overall efficiency, and raises the temperature of the water with minimal energy expenditure.
Advantages of two-stage technology
The two-stage technology employed in the HWS hydronic module offers a number of significant advantages:
R134a refrigerant in high temperature stage. R134a is a pure HFC refrigerant which is harmless for the stratospheric ozone layer and contributes only marginally to the greenhouse effect. This refrigerant is particularly suitable for high temperature applications.
R410A refrigerant in low temperature stage. This is also an HFC refrigerant that is harmless to stratospheric ozone, which offers extraordinary efficiency in air conditioning applications.
Minimal external energy demand, even when the system is operating in air conditioning mode. The heat drawn from the air is used to heat water.
When the system functions predominantly in air conditioning mode – in summer, for example – hot water is produced with extremely low energy consumption. This makes it possible for the system to attain very high COP values.
Continuously variable heating power in relation to demand, made possible by the inverter motor scroll compressor, which reduces energy consumption proportionally.
Compact dimensions and very light weight. These modules may be mounted on walls, even in intermediate positions. Practically zero floor space usage.
Individual thermal energy consumption billing with field devices.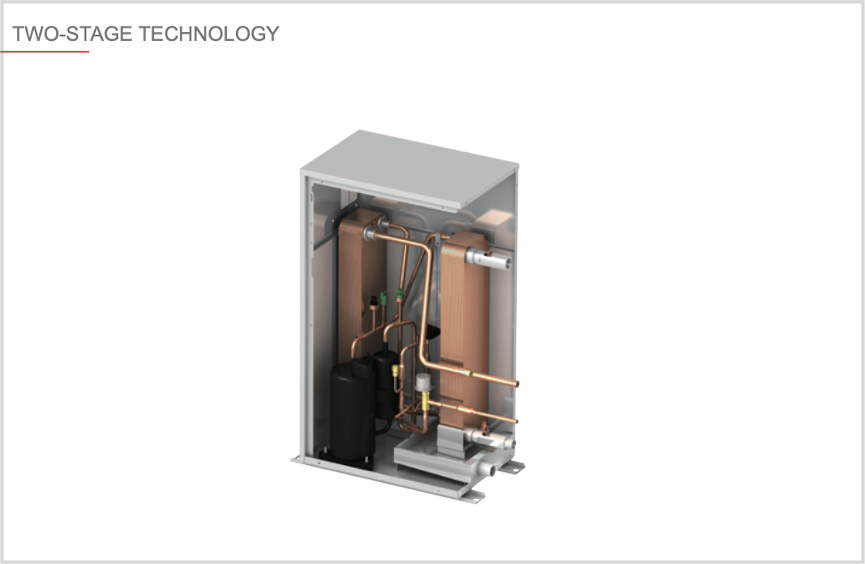 Hybrid systems
The HWS hydronic module may be used to create hybrid systems, with both hydronic modules and VRF direct expansion units. For instance, this makes it possible for the system to produce domestic hot water and heat or cool the air in the indoor space using the most suitable indoor units of the Mitsubishi Electric range (cassette units, ceiling-suspended units, ducted units etc.).
As well as superior energy efficiency, a hybrid system also offers the extraordinary flexibility needed to cater for very diverse situations, which a conventional air conditioner system simply does not.
Control and Adjustment System
The HWS hydronic module can be configured for the following operating modes and hot water temperatures: